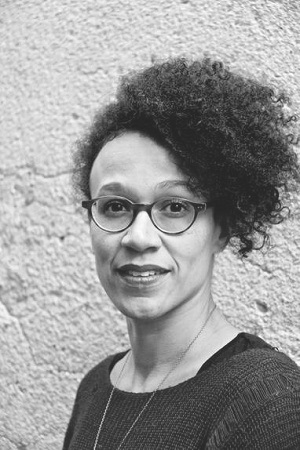 Dr.'in des. Vanessa Eileen Thompson
ehemalige Gastdozentin
Akademische Abschlüsse
2017 Promotion am Fachbereich Gesellschaftswissenschaften der Goethe-Universität Frankfurt am Main
2010 Magister Artium in Philosophie, Germanistik und Kulturanthropologie an der Goethe-Universität Frankfurt
Akademische Ausbildung
2003-2010 Studium der Philosophie, Germanistik und Kulturanthropologie and der Goethe-Universität Frankfurt und an der Université Lumière 2 Lyon
Berufs- und Lehrtätigkeiten
Seit 10/2018 Gastdozentur Gender & Queer Studies an der Universität zu Köln
08/2017-09/2018 Wissenschaftliche Mitarbeiterin am Institut für Soziologie mit dem Schwerpunkt Kultur und Migration an der Goethe-Universität Frankfurt
01/2017-03/2017 Visiting Participant, Research Group in Residence, Queer of Color Formations and Translocal Spaces in Europe, Humanities Research Institute, University of California
07/2016-07/2017 Fellow am Department of Black Studies, University of California, Santa Barbara
01/2014-06/2014 Gastwissenschaftlerin am Department of Ethnic Studies, University of California, Berkeley
05/2010-03/2016 Wissenschaftliche Mitarbeiterin am Institut für Soziologie mit dem Schwerpunkt Kultur und Migration an der Goethe-Universität Frankfurt
05/2009-05/2010 Studentische/Wissenschaftliche Hilfskraft beim European Research Council Starting Grant Project "Post-Migrant Socialities. Ethnic Cultures in Urban Europe" (Projektleitung: Prof. Kira Kosnick)
Forschungsschwerpunkte
Kritische Rassismus- und Migrationsforschung
Gender- und Queer Studies
Intersektionalität
Postkolonial/Dekolonial-feministische Theorien und Methodologien
Black Studies (mit besonderem Fokus auf Black Europe)
Theorien und Kritik der Versicherheitlichung
Qualitativen Methoden der empirischen Sozialforschung (insb. der Ethnographie)
Artikel (peer reviewed)
Im Erscheinen: Decolonizing City Spaces and Images. Black Collective Solidarity and Conviviality in Paris. In: Darkmatter, Special Issue on Racial Imagery.
2018: gens QTBPOC collective: Bacchetta P., El-Tayeb F., Haritaworn J., Hernandez J., Smythe SA, Thompson V.E. und T. Willoughby-Herard. Queer of Color Space-Making in and beyond the Academic Industrial Complex. Critical Ethnic Studies Journal, Special Issue: The University and What Can Be Done, 4(1): 44-63.
2016: mit Veronika Zablotsky. Rethinking Diversity in Academic Institutions. In: Wagadu: A Journal of Transnational Women's and Gender Studies, 16: 77-95.
2016: Mit Sara Salem. Old Racisms, New Masks: On the Continuing Discontinuities of Racism and the Erasure of Race in European Contexts. In: Ninety Sixty Nine: an Ethnic Studies Journal, Special Edition: Across Difference 3(1): 1-21.
2016: Black Jacobins in Contemporary France: On Identities on Politics, Decolonial Critique and the Other Blackness. In: Sociological Focus, Special Issue on Black Movements, 49(1): 44-62.
Beiträge in Sammelbänden:
Im Erscheinen: There is no justice, there is just us! Ansätze zu einer postkolonial-feministischen Kritik der Polizei am Beispiel von Racial Profiling. In: Kritik der Polizei. Hg.: D. Loick, Frankfurt/M.: Campus.
Im Erscheinen: We have to act. That is what forms collectivity. Black Solidarity beyond Identity in Contemporary Paris. In: Locating African European Studies: Interventions – Intersections – Coalitions. Hg.: M. Stein, F. Espinoza, C. Kögler, D. Nyangulu. London: Routledge.
Im Erscheinen: mit Fatima El-Tayeb. Racial Profiling als Verbindung zwischen alltäglichem Rassismus, staatlicher Gewalt und kolonialrassistischen Traditionen. Ein Gespräch über Racial Profiling und intersektionale Befreiungsprojekte in Europa. In: Racial Profiling. Struktureller Rassismus und antirassistischer Widerstand. Hg.: M. Wa Baile, S. O. Dankwa, T. Naguib, S. Schilliger und P. Purtschert. Münster: Transcript.
2018: mit Jeanette Ehrmann. Abolitionistische Demokratie: Intersektionale Konzepte und Praktiken der Strafkritik. In: Strafe und Gefängnis. Theorie, Kritik, Alternativen. Eine Einführung. Hg.: R. Malzahn, Stuttgart: Schmetterling Verlag.
2018: Turn white or disappear. On the Everyday of Racist Policing. In: We protect you from yourselves. The politics of policing. Hg.: Democracia und Felix Trautmann, Madrid: Brumaria, S. 79-93.
2018: mit Alexander Vorbrugg. Rassismuskritik an der Hochschule. Mit oder trotz Diversity Management? In: Prekäre Gleichstellung: Geschlechtergerechtigkeit, soziale Ungleichheit und unsichere Arbeitsverhältnisse in der Wissenschaft. Hg.: M. Laufenberg, M. Erlemann, P. Lucht, M. Norkus, G. Petschick. Wiesbaden: VS Verlag, S. 79-99.
2017: mit Veronika Zablotsky. Nationalismen der Anerkennung – Gedenken, Differenz und die Idee einer "europäischen Kultur der Erinnerung." In: Decolonize the City! Zur Kolonialität der Stadt. Gespräche – Aushandlungen – Perspektiven. Hg.: Zwischenraum Kollektiv. Münster: Unrast, S. 156-177.
2015: On the Move! The Rise of a Black LGBT*Q Clubbing Scene in Paris and Negotiations within the Coloniality of the City. In: Postmigrant Club Cultures in Urban Europe. Hg. K. Kosnick. Frankfurt am Main: Peter Lang, Internationaler Verlag der Wissenschaften, S. 87-114.
2015: The Master's Tools will never Dismantle the Master's House. Frantz Fanon on the Politics of Recognition and Whiteness in Hegemonic Social Philosophy. In: Unveiling Whiteness in the Twenty-First Century: Global Manifestations, Transdisciplinary Interventions. Hg. D. Howard-Wagner, V. Watson, L. Spanierman. MD: Lexington Books, S. 171-192.
Kleinere Beiträge, Rezensionen, Interventionen
2018: Repairing Worlds: On Radical Openness beyond Fugitivity and the Politics of Care. Comments on David Goldberg's Conversation with Achille Mbembe. In: Theory, Culture & Society (0): 1-8.
2018: mit Katharina Hoppe, Darja Klingenberg, Felix Trautmann, Alexander Vorbrugg. Worüber wir reden, wenn wir mit jemandem nicht reden wollen. Zum Spannungsverhältnis von Rassismuskritik und Meinungsfreiheit an der Universität. Movements, Journal for Critical Migration and Border Regime Studies, S. 167-177.
2017: Afrikanische politische Philosophie als plurale Kritik. Rezension zu: F. Dübgen and S. Skupien (2015). Afrikanische politische Philosophie. Postkoloniale Positionen. Berlin, Suhrkamp.
2016: mit Joanna James. Racial Profiling, Institutioneller Rassismus und Widerstände. In: Handbuch des Informations- und Dokumentationszentrums für Antirassismusarbeit e.V. (IDA) zu Flucht und Asyl, Düsseldorf.
2016: mit Laura Digoh-Ersoy. Schwarze Geschichte, Rassismuskritik und (Selbst-) Organisierung in Deutschland. In: Handbuch des Informations- und Dokumentationszentrums für Antirassismusarbeit e.V. (IDA) zu Rassismuskritik, Düsseldorf.
2014: mit Jeanette Ehrmann. Emanzipation wird erst in der Praxis denkbar. Angela Davis im Gespräch über Feminismus, Gefängniskritik und Diversity. In: Jungle World (51) 19.12.2013.
2014: mit Jeanette Ehrmann. Der Klang von Black Power. Interview mit Angela Davis. In: Missy Magazine, 02.2014. S. 24-26.